On attendait un successeur du Panasonic Lumix DMC GF-7, profitant du nouveau capteur de 20 Mpix présent sur le GX8… Ou même d'un petit viseur électronique ? Raté ! Le Panasonic DMC-GF8 ne change pas de capteur. Et ne gagne pas de viseur.
Il faudra donc attendre pour cela le successeur du Panasonic GM1 (mon compact préféré est un hybride), ou le successeur du Lumix DMC-GM5 (Dilemme, Panasonic DMC GM5 ou LX100 ?). Enervant ! A noter que ce Panasonic DMC-GF8, ne sera disponible qu'en Asie. Et qu'il est loin d'être ridicule par ailleurs : avec une rafale à 5,8 im/sec (en mode AF S). Et 5 im/sec (en mode AF C)…
Avec un mode Burst spécifique à 40 im/sec grâce à son obturateur électronique. Obturation électronique grimpant à 1/16.000 de seconde. La vidéo en Full-HD (1920 x 1080 pixel) grimpe aussi jusqu'au 50p en AVCHD et MPEG-4 / H.264. Avec un micro stéréo. épatant pour un si petit gabarit.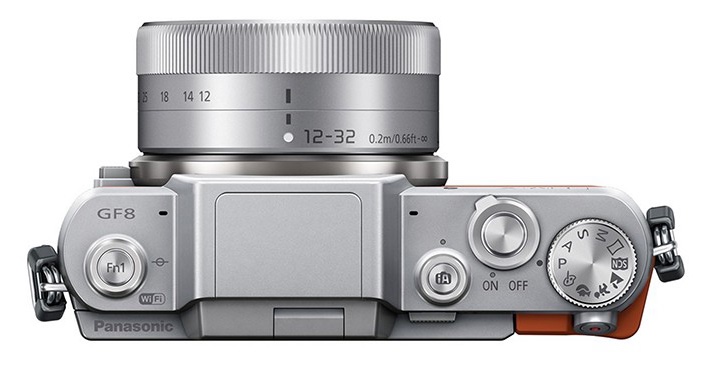 Il y a même du WIFI pour piloter l'objet à distance. De quoi le transformer en "piège photographique", vu son format miniature… L'ensemble ne couterait que 699 € en kit avec son minuscule LUMIX G VARIO 12-32mm / F3.5-F5.6 ASPH. / MEGA O.I.S (équivalent à 24-64 mm : excellent pour le prix et stabilisé) ! C'est cadeau…
STP msieur' Pana' : le même avec un viseur d'au moins 2,36 Mpix… Et pas plus de 800 € en Kit (qu'on puisse le toucher à moins de 700 € en patientant six mois).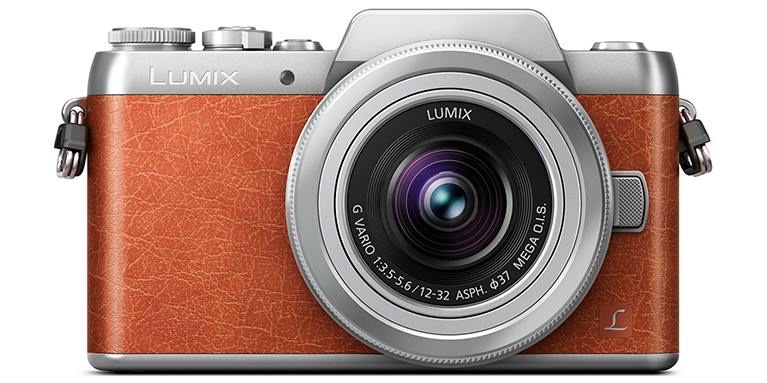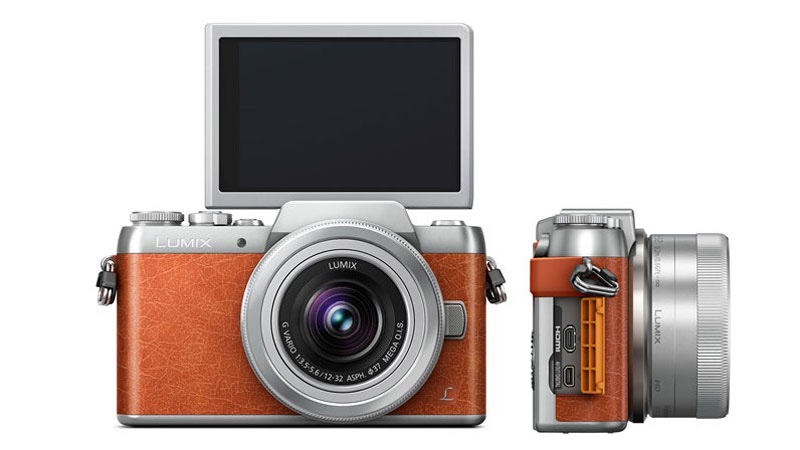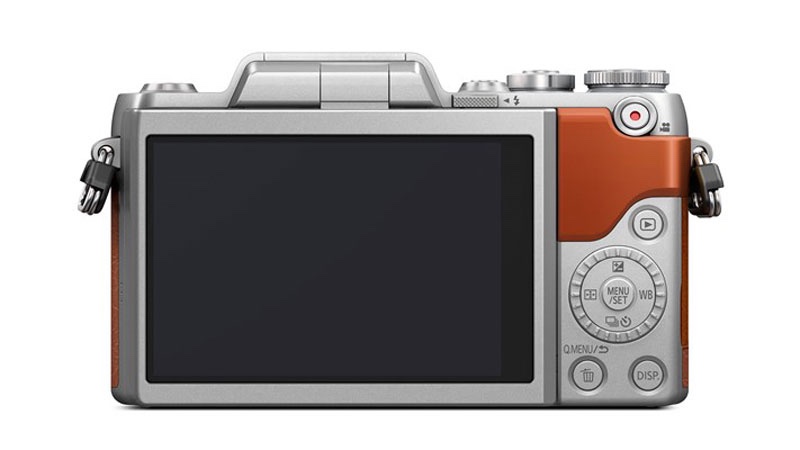 ---
Communiqué de presse : 
LUMIX GF8 for the Best-Ever Attractive Selfie Shots 
Featuring Advanced Beauty Retouch Mode
Panasonic is introducing a new Digital Single Lens Mirrorless (DSLM) Camera, the LUMIX GF8 that adds even more fun than its predecessor GF7 for users to enjoy more unique photo shooting. The new LUMIX GF8 offers high capability for shooting selfie with a host of options such as newly integrated beauty functions. 
The 3.0-inch 1040K-dot rear monitor with touch control tilts up by approx.180-degree and the camera goes into Self Shot Mode automatically once the monitor is flipped. In the Self Shot Mode, a variety of functions for selfies are available on the LUMIX GF8. The beauty functions enables users – especially women – to shoot portraits more attractively with its Soft Skin, Defocusing and Slimming effects. After shooting, you can even put on an aesthetic/make-up retouch, in camera, with Beauty Retouch function. 
The LUMIX GF8 integrates Wi-Fi® connectivity to offer more flexible shooting experience and instant image sharing with easy operation. 
The basic photographic performance of LUMIX GF8 as a camera is excellent. It enables users high-quality image recording with real-to-life details through excellent resolution, image rendering and color reproduction. Taking full advantage of 16.00-megapixel Digital Live MOS Sensor and Venus Engine, images are produced with highly sharp resolution even shot in low-lit situations and even max. ISO 25,600 high sensitivity can be selected. The Contrast AF System of LUMIX GF8 excels in both speed and accuracy by exchanging digital signal between the camera and the lens at max. 240 fps. A variety of extensive AF functions including Face/Eye Detection AF or Low Light AF assures in-focus shots even in difficult shooting situations. 
The LUMIX GF8 also features full HD 1920 x 1080, 60p (60 Hz) / 50p (50 Hz) high quality video recording in AVCHD progressive and MP4 with stereo sound. The practical full-time AF and tracking AF is available in video recording, too. The LUMIX GF8 features a unique video recording option called Snap Movie Mode which lets users record video in designated short period of time (2/4/6/8 sec) as they shoot "moving photos".
Last but not least, the iA (Intelligent Auto) mode and the Scene Guide make LUMIX GF8 easy to use even for beginners of digital interchangeable lens system camera. Portrait, Child, Scenery modes, which are used often, have respective shortcuts on the dial. Most appropriate parameters for each scene are automatically applied by just setting the dial to the mode to capture those scenes most beautifully. 
Available in silver, brown, pink and orange, the LUMIX GF8 boasts sleek, stylish profile in traditional camera design. Its high mobility enables to users carry it around and enjoy creative, high quality photography with the unlimited potential of interchangeable lens system camera. 
1. Enjoy Selfies in a More Flexible Way – Beauty Retouch & Hands-Free Selfie
The new LUMIX GF8 is a perfect camera for selfie especially for women. A rich variety of beauty functions in LUMIX GF8 enables users to shoot more attractive portraits. In shooting mode, the Soft Skin mode makes skin look smoother while Slimming looks the subject sharpened up in 10 fine steps. Defocusing gives natural defocus around face to make the picture more impressive.
After shooting, you can even put on virtual make-up on the face in the playback mode with newly added Beauty Retouch function. In Aesthetic Retouch, various effect can be applied to the face including clearing the skin texture, lifting up the face whitening of teeth and so on. In the Make-up Retouch, users can choose the color of foundation, lips, cheeks or eye-shadow
The 3.0-inch 1040K-dot static type touch control monitor boasts 180-degree tiltable structure. Once the monitor is flipped up, the camera activates Self Shot Mode automatically. In conventional selfie pictures, users have to stretch their arms to hold the camera, which makes the selfie pictures all-too-common. However, the hands-free selfie allows users to use their hands as they like, resulting in free, expressive posing. However, Face Shutter and Buddy Shutter functions are integrated for a trigger of shutter release in LUMIX GF8. They work when the face is once covered with a waving hand or when two faces come closer in a frame. 
Creative Control filter that are suitable for impressive selfie shots – Retro, Soft Focus, Expressive, High Key and Toy Effect can be combined with the Self Shot mode, too. 
2. High Performance Digital Single Lens Mirrorless with High Speed Response
The LUMIX GF8 incorporates 16.00-megapixel, large Digital Live MOS Sensor complying with Micro Four Thirds system standard that achieves both higher resolution and higher sensitivity image recording with less noise. The image processor Venus Engine features its advanced noise reduction systems. It features high level of noise is control thanks to the expanded controllable area of noise. This makes it possible to remove large block of noise which was formally hard to detect and helps produce clear, smooth image especially for the nighttime scenery. The combination of the Digital Live MOS Sensor and the Venus Engine achieves fine detail reproduction, making it possible to capture clear image even in low lit situations and allows max. ISO 25600 while achieving minimum ISO 100 (Extended).
The LUMIX GF8 features high-speed Light Speed AF, making it possible to capture even the fast-moving subject clearly. The camera and the lens exchange the digital signal at max. 240 fps to minimize the time to focus. The LUMIX GF8 realizes the high speed burst shooting at approx.5.8 fps (AFS) / approx.5 fps (AFC, 1-area AF) in 16.00-megapixel and max. 40 fps using an electronic shutter. Also, AF Tracking enables consecutive shooting to capture moving subject in sharp focus at approx.4 fps*.
The Low Light AF help users to get in-focus shot even in extremely low-lit situations such as under the moonlight or the starry sky. Sharp focus can be set on the target subject even when you cannot use an AF assist lamp.
In addition to the conventional Face Recognition AF, the LUMIX GF8 incorporates Face / Eye Detection AF which automatically sets focus right on the eye of human face. With the Pinpoint AF, users can magnify the target area to set focus by 5x by just touching it on the monitor. The One-shot AF enables using AF even in MF mode by just touching the icon on the screen to set rough focus on the subject and you can go back to MF just to adjust precise focus.
The LUMIX GF8 records stunningly smooth, high-resolution full-HD 1,920 x 1,080 60p (60 Hz) / 50p (50 Hz) videos in AVCHD Progressive or MP4 (MPEG-4 / H.264) format. High quality sound can be recorded with Dolby® Digital. A Wind Cut function is also available to block out most of the noise from background wind. 
* In 1-area-focusing AF mode.
– Maximum time to record motion pictures continuously with [AVCHD] is 29 minutes 59 seconds in Europe and some Asian areas.
– Maximum time to record motion pictures continuously with [MP4] is 29 minutes 59 seconds or up to 4 GB.
– You can check the recordable time on the monitor. (For [FHD] in [MP4] format, the file size is large and so the recordable time will drop below 29 minutes 59 seconds.)
3. Easy Wireless Connectivity via Wi-Fi® with Smartphones
The LUMIX GF8 integrates Wi-Fi® connectivity (IEEE 802.11 b/g/n) to offer more flexible shooting experience and instant image sharing with easy operation. Once connecting the camera and smartphone/tablet installing Panasonic's dedicated application software Panasonic Image App for iOS / Android, users can shooting / browsing / sharing images remotely. 
Connecting the camera to the smartphone/tablet is quick and easy with a press of Fn1/Wi-Fi* button or by reading the QR code. Plus, the LUMIX GF8 users are eligible to have free 100GB storage on Google Drive™ to save photo and video data*.
* The service is available for two years after the activation.
4. A Host of Advanced Functions Packed in a Sleek Body with Ease of Use
Although the LUMIX GF8 packs a host of advanced functions, it features sleek, stylish profile with high mobility.  Every part including button and dial is carefully chosen to achieve high quality design and operability. The leather-touch grip is ergonomically designed and easy to hold. Dressed in fashionable colors – silver, brown, pink and orange, the LUMIX GF8 makes perfect match for unisex users to enjoy high quality photo shooting daily.
The LUMIX GF8 comes with Rec.Setting Reset button on the back. All recording settings can be reset with the button and it is helpful for users who made wrong settings unconsciously. 
5. Other Features
iA+ (Intelligent Auto) Mode for Photo and Video
For beginners, iA (Intelligent Auto) mode supports taking beautiful pictures with a variety of shooting-assist functions including AF Tracking, Intelligent Scene Selector, Face Recognition, Intelligent ISO Control and Food Recognition.
Scene Guide
The Scene Guide* offers 20 sample pictures shot by professional photographers. Users can choose the one closer to the situation they are going to shoot and optimum parameters for shooting the scene will be automatically set. Furthermore, shooting procedure, technical advice and recommended interchangeable lens for the scene can be shown for users to learn photography. 
* Video recording using Scene Guide is not possible in some scenes.
Creative Control
The LUMIX GF8 integrates a variety of artistic functions that adds fun to digital photography. The popular Creative Control mode features a total of 22 filter options – Expressive / Retro / Old Days / High Key / Low Key / Sepia / Monochrome / Dynamic Monochrome / Rough Monochrome*1 / Silky Monochrome*1 / Impressive Art / High Dynamic / Cross Process / Toy Effect / Toy Pop / Bleach Bypass / Miniature Effect*2 / Soft Focus*1 / Fantasy / Star Filter*1 / One Point Color / Sunshine*1 mode. Effect parameter of each mode is also adjustable. Also, LUMIX GF8 is capable of taking pictures "with" and "without" filter effect simultaneously, so that users can compare them to choose later.
*1 For photo only.
*2 Sound will not be recorded with [MINIATURE EFFECT] in Creative Control Mode and approximately 1/10 of the time period is recorded. (If you record for 10 minutes, the resulting motion picture recording will be approximately 1 minute long.) 
Snap Movie
Users can record video in designated short period of time (2/4/6/8 sec) as they shoot "moving photos". In this function, rack focusing or addition of fade effect (color in/out, black in/out, white in/out) are available. Those short video clips are easy to be shared using Panasonic Image App and It is also possible to connect them in any order you like and even to add music instead of recorded sound on the combined file later.
Time Lapse Shot
The camera automatically starts recording photos at time lapse sequence once the start time, interval and the number of pictures to shoot are set. 
Stop Motion Animation
This function enables producing a stop motion (stop frame) video in camera with the pictures that are sequentially shot while moving the object by degrees. This effect makes the object appears as if it is moving by itself.
Silent Mode
This mode switches shutter from mechanical to electronic and turns all sound (AF, operation) off while suppress emission of AF assist lamp and flash with just a single setting for special shooting occasions.